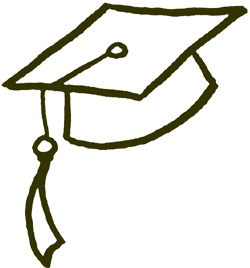 Letting go is never easy. We, the senior students of SMSM Batch 2003-2004, are bidding farewell after our long high school expedition that is full of meaningful memories.
The end of one stage marks the opening of another. Before we receive the passes for the higher chamber of our lives, we would like to pass on our achievements and legacies to righteous and competent hands of the juniors.
To begin with, the Throne of Leadership once upheld by Fernando Varias will be bestowed to Alaine Jairus Santos. Just as Jamie Laine Meneses passes her Shield of Fortitude to Nico Navarro while feisty Angelica Siojo receives the Sword of courage from Aubrey Ancheta.
Academics remains proud because the amazing Memorization Techniques of Joey Tecson will be shared with Nico Navarro in the same manner of Angelica Siojo accept the Book of Knowledge from Giselle Jeanne Manuzon. Mathematician Aubrey Ancheta is confident of giving her
legacy to Alaine Jairus Santos.
In the field of sports, Lester Bryan Lopez zealously accepts the demanding task of being, King of the Hard court, from Manny Astrero. The Queen of Dash, Lilet Barrios gives up her baton to the aspiring King of Dash, Joe Bert Meneses. On the other hand, Chess Master Jovit Centeno yearns Alaine Jairus Santos to take his domain.
The Dancing Shoes of Vyen Carlo Geneza are bequeathed to Joe Bert Meneses as well as the Oration Prowess of Fernando Varias to Angelica Siojo. The Drawing Ability of Melissa Felix is left on the hands of Nico Navarro while the sentimental Alaine Jairus Santos continues the Poetical
Whims of Riena Alexia Sumande.
Christian Paulo Villanueva's Code of Silence will be charged to Lester Bryan Lopez. The Funny Bones of Jovit Centeno and John Paolo Pascual are to be adequately replaced by Nico Navarro and Alain Jairus Santos. In the reliable eyes of Joe Bert Meneses, the Vivid Imagination of Felix Sulo and Paolo Salas can only be improved just as Angelica Siojo promotes the Rational Head of Arthur Ancheta.
Let it be known that we give Angelica Siojo the honor and
responsibility of writing the Class Will and Prophesy 2005.
We expect nothing but fulfillment and more triumph from the aspiring seniors. May they reap more attainments for our beloved Alma Mater. MAGNIFICAT ANIMA MEA DOMINO
love, now and always,